Leathered Granite!
If you're a true Granite lover you can admire its beauty in whatever type of finish it comes in. Its natural variations in color, pattern, veining and density can be either a challenge or add even more uniqueness to each piece. It's amazing how mother nature works wonders in giving so much character to such hard piece of rock; and even more amazing is seeing how we can transform that into such an elegant and rich counter top piece that will withstand our regular lifestyle.
A few years back, the polished finish was extremely popular; Honed, Brushed, Hammered just to name a few were hardly used. But from the past couple of years we have noticed more and more the appearance of new finishes that come to add a new look and value to popular colors as Uba tuba, Santa Cecilia and others… Although granite has become very popular in the past few years, those finishes can be applied to basic colors giving them an upscale touch and sophistication.
Since 2008 several new finishes have been introduced to the market.   These new finishes or textures are becoming very popular and homeowners now have the option to  still use a standard granite color but with added elegance due to its sophisticated look.
Of course, there is some discussion related to the polished finish being a lot more stain resistant as opposed to the others, but as long as a proper sealer is applied on the stone the other finishes such as Antique, Cleft, Leathered can be great finishes choices as compared to the Polished surfaces.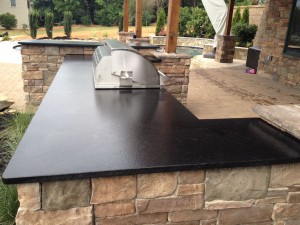 One of the beauty of these new finishes, let's use the Leather Finish as an example; it's the density (or depth) of its texture will vary depending on the type (composition) of the stone. Again, another act of mother nature giving each material a unique color and appearance.